FOR IMMEDIATE RELEASE
Get Ready to Win the Ultimate Rossland Winter Adventure for You and Your Crew!
November 1, 2023
[Rossland, BC Canada]  Tourism Rossland is proud to present an extraordinary campaign that is set to captivate the hearts of winter enthusiasts and storytelling aficionados alike. In this age of marketing overload, Tourism Rossland's latest campaign video takes a unique approach to inspire and entertain, featuring an unexpected protagonist: a lost glove that springs to life, embarking on a captivating adventure through the winter wonderland of Rossland, BC.
A Cinematic Masterpiece:
Directed by Scotty Carlson and produced by Juicy Studios in Rossland, BC, this campaign video sets a new standard for creative storytelling. Juicy Studios have a proven track record, working with major brands such as Diamondback Bikes, Red Bull, The North Face, and HP. Their expertise in delivering exceptional visuals and engaging narratives shines through in this project.
Andras Lukacs, executive director for Tourism Rossland is thrilled to see the vision come to life.  "We feel incredibly fortunate to have an abundance of exceptional filmmakers right here in Rossland, and we couldn't be more thrilled with the outstanding story that Scotty and his team have created for us. It really is special and we hope it brings a smile to many faces"
A Different Approach:
Unlike conventional marketing campaigns, this video takes a refreshing and unobtrusive approach to showcasing Rossland, BC. With minimal dialogue, exceptional sound engineering, and awe-inspiring cinematography, the video's primary aim is not to aggressively sell Rossland as a destination, but to create content so extraordinary that it naturally finds its way to a global audience.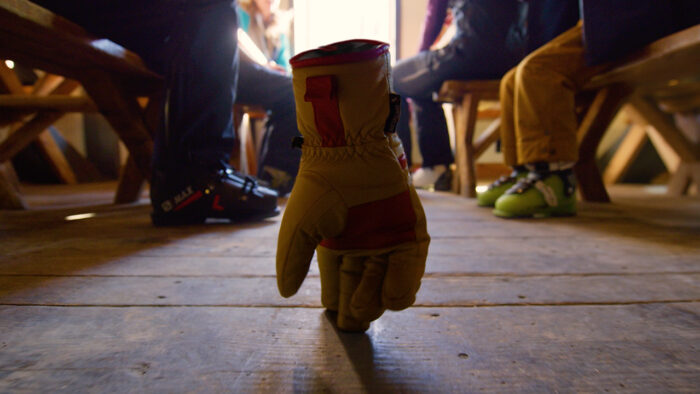 Unbelievably Real:
What sets this video apart is the incredible authenticity of its main character, the lost ski glove. The glove isn't a product of CGI or animation; it's a tangible part of the story. The video was ingeniously filmed with Scotty Carlson himself donning the glove and a green body suit, to later edit out of the various scenes. The final product is a seamless, mesmerizing story that surely earned Scotty some amused expressions from onlookers while filming. 
"This is my favourite project I have ever created," says Scotty Carlson. "The idea was born from the endless gloves my kids lose as well as my constant fear of dropping a glove from the chairlift. I pictured all of these lost gloves and mitts buried beneath the snow and it made me sad. I thought, what if they had their own epic journey back home, what would that look like? Well, it looked like me laying in the snow wearing a green suit bringing a glove to life. As I started seeing the glove 'move on its own' I could feel the character come to life. I am so proud of this film and I can't wait for everyone to see it. I hope you enjoy it and it puts a smile on your face! Also, just don't take your gloves off on chairlifts, it gives me anxiety."
Win the Ultimate Rossland Winter Adventure for You and Your Crew!
To celebrate the return of ski season and the enchantment of winter in Rossland, Tourism Rossland and local businesses are generously offering an incredible winter vacation package. This opportunity is the perfect chance for anyone to experience the real-life magic of Rossland in person.
Tourism Rossland wants to make your winter dreams come true by offering you and three of your closest buddies a chance to experience the magic of Rossland, BC. It's time to get lost in the awe-inspiring scenery, redefine adventure, and reconnect with your inner explorer.
How to Enter:
Starting on November 1st, you can enter for a chance to win a spectacular Rossland Winter vacation package valued at over $8000! This incredible package includes:
A one-night stay in a mid-mountain Constella cabin at RED Mountain Resort, complete with dinner for four.

Two nights of pure luxury in a French-inspired designer suite at The Prestige Mountain Resort.

Two days of heart-pounding skiing at RED Mountain Resort.

An unforgettable cat skiing adventure with Big Red Cats and SO MUCH more!
Head to tourismrossland.com/lost to enter to win and learn more about the contest.
Don't Miss Your Chance:
The contest opens on November 1st, so be sure to mark your calendars and set your sights on winning the Rossland Winter adventure of a lifetime. Whether you're an experienced shredder or a newcomer to the snow, this contest is your golden ticket to unforgettable memories and new experiences.
About Tourism Rossland
Rossland is located in the beautiful Kootenay Rockies Region of British Columbia and is home to Red Mountain Resort and Big Red Cats, the world's largest cat skiing operation. Featuring one of the top 10 largest ski terrain resorts in North America, with over 200+ km of single-track mountain biking trails, Rossland has been recognized as the Mountain Biking Capital of Canada. Located on the Powder Highway in the Kootenay Rockies, Rossland offers both summer and winter charm and visitors will experience a unique and authentic experience that will have them coming back again and again. For more information visit www.tourismrossland.com.
About Juicy Studios
Juicy has grown into a team of filmmakers, designers, and writers. We want every project to move mountains for our clients. We tell stories for clients both big and small. From initial concept and design to post production and delivery. Most of the time we tell these stories in short films and commercials, primarily for the web. These stories help our clients sell products. A lot of them. Like A LOT. We have the proof. For more information visit: www./juicystudios.com/
For full contest details and to enter, visit our website at tourismrossland.com/lost
For media inquiries and additional information, please contact:
Kylie Lakevold
Follow us on social media @Rosslander for updates and share your excitement using #LostandFoundRossland!