What happens when a custom ski entrepreneur and an artist make a film baby about their epic collaboration?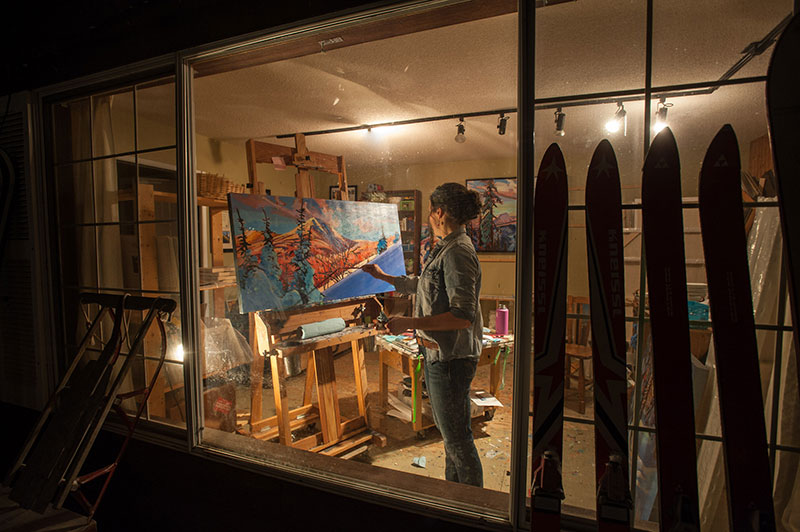 November 30th, 2018 Rossland, B.C. – Homegrown film maker, Eric Gonzalez wanted to create a new type of film.  After years of creating content for various tourism organizations that marketed the local businesses and attractions, Eric wanted to make a short film for Rossland Film Festival.
That's when he found the perfect entrepreneurial love story to make a film about.  Eric's short film, Artfully Rossland, explores the stunning terrain of Rossland, BC, through the eyes of local artist, Stephanie Gauvin, and custom ski making entrepreneur, Al Eagleton of Instinct Skis.
"Andras Lukacs (Tourism Rossland's Executive Director) came to me in early November and mentioned the collaboration that had been taking place between Al and Stephanie and I jumped on it immediately, says Eric Gonzalez. "The skis, in my opinion, are a great symbol of what makes Rossland so special. The love of skiing and the outdoors is reflected in not only the artwork but the attention to detail and care put into making the skis. Creating a local product from start to finish like that is something that I have not seen often in small towns and wanted to share this story of collaboration with everyone."
Throughout the film. Al and Stephanie talk about their artistic collaboration to make beautifully designed, award winning skis, in their small town.  Inspired by the encouraging embrace of their community and often surreal surroundings, these two entrepreneurs have made something truly special.
The term, "What's good for the goose is good for the gander", often comes to mind while speaking to the locals in Rossland, BC.  There isn't a competitive mindset when it comes to new businesses popping up as this small town continues to grow.  The business community here genuinely sees the success of each and every local venture as a success of their own and their community.
"Small towns often get a bad reputation for being a stifling environment for innovation.  Rossland is not that type of place.  In just one city block, you will pass by a variety of businesses from art galleries and craft breweries to large tech startups.  And the community here, supports them all.", says Kylie Lakevold, marketing coordinator for Tourism Rossland.
In this spirit, several businesses joined forces to celebrate the successful release of Eric's new film and the collaborative entrepreneurial journey of artist Stephanie Gauvin and Al Eagleton of Instinct skis.
Alongside the release of Eric Gonzalez' film, 'Artfully Rossland', Eagleton and Gauvin want one lucky winner to glide down their local mountain, in style, and are giving away a  pair of Stephanie Gauvin Artist Series Instinct Skis. The Josie Hotel also jumped on this celebration and are giving away a 3 nights stay at North America's newest boutique, slopeside hotel for two. And just to up the ante, Red Mountain also decided to throw in two days of skiing at their world class mountain resort. The prize package is worth over $3000.
The campaign message is much bigger than meets the eye.  This campaign hopes to set an example of how businesses can and should work together to amplify the achievements of locals in their community.