photo credits: Tourism Rossland/Troy Nebeker
For Immediate Release: December 13th2019
Legacy and Lifestyle: Rossland's mountain culture lives on through historical cabins and the people that get to experience them.
December 13th, 2019 Rossland, B.C. – Located in the backcountry of the Rossland Range, is a network of cabins that locals and visitors hike, snowshoe, ski and fat bike to.  These day-use cabins feature stunning vista views and are open to anyone who wants to warm up by a fire or stop for lunch and a well-deserved rest. These cabins are one of the many unique attractions in the area and are lovingly maintained by volunteers from the Friends of The Rossland Range Society.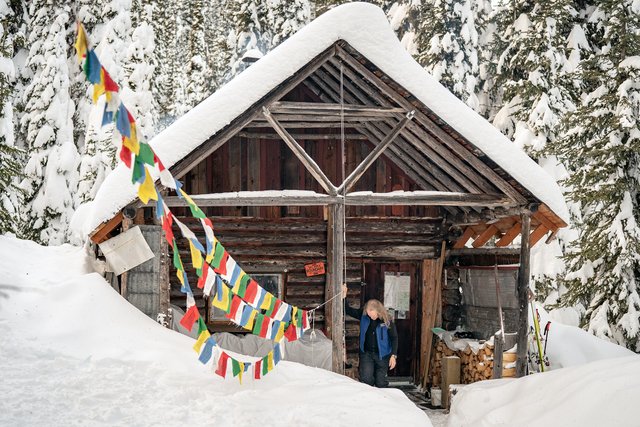 Closer to the city of Rossland, at RED Resort, Wake Williams has his own cabin. Nestled next to one of RED's most scenic ski runs – Rino's Run, The Yodel Inn is an iconic part of Rossland history.  Built in 1944 by his father, Wake Williams has been taking care of the Yodel Inn for almost 50 years.  Unlike the cabins in the Rossland Range, this shelter is not open to public use. However, if you spot Wake's prayer flags hanging from the roof, this signifies that Williams' is in residence and the Yodel Inn is welcoming visitors.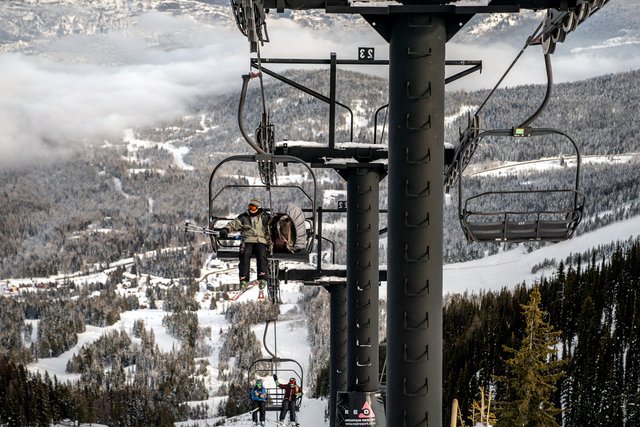 Wake spends roughly 200 days a year at The Yodel Inn and is proud to be continuing his parents' legacy of caring for the cabin and sharing his family history with anyone who stops in for a visit. When asked how he came to be the keeper of the Yodel Inn, Wake tells his family story,  "My mother and father were part of a large group of people in the 1930s and '40s that used to come ski touring into these mountains. There was a Trail Ski Club and a Rossland Ski Club, all of whom used to come up into these mountains. They had mountain cabins that they'd stay at and were sort of their base camps. When my mom and dad got together and had kids, it was just natural that they would continue that lifestyle and pass it on." To Wake, living this lifestyle is a right of passage and he is happy to keep his family legacy alive.
To celebrate the return of winter and the beginning of another epic ski season, Tourism Rossland has released the first of five videos in a series that they have aptly named, Stories From Our Snowglobe.  These videos, filmed by Eric Gonzalez, not only showcase the quirkly, unspoiled ski town of Rossland, but also the legendary people that call this place home.  It should come as no surprise, that the first video features Wake Williams and his life at The Yodel Inn. During this five-part campaign, they will be releasing a new video every Thursday and will be giving away custom Rossland snowglobes to ten lucky viewers.
To learn more about 'Stories From Our Snowglobe'  and the Wake Williams story, visit http://tourismrossland.com/snowglobe
About Tourism Rossland:Tourism Rossland is Rossland, B.C.'s Destination Marketing Organization and works collaboratively with input from all Rossland tourism stakeholders. The organization is a registered non-profit society which was formed in 2007.